content
The debate about the football tournament is fueled by the inhuman statement of the ambassador of the World Cup. Interest groups demand a clear stance from FIFA towards the LGBT community.
Qatar's official World Cup ambassador and former international footballer Khalid Salman has sparked outrage with anti-gay remarks. In a TV documentary on ZDF about the host country of the World Cup, he called homosexuality "mental damage" on camera. A spokesperson for the World Cup Organizing Committee then stepped in and stopped the conversation.
Salman's statement was met with incomprehension by the spokesperson of the Swiss Football Association (SFV). "These statements are unacceptable. You are hurtful. You are disrespectful. They are simply unworthy," SFV media spokesman Adrian Arnold told SRF News. It emphasizes that SFV is committed to equal rights for all people regardless of their political, religious or sexual orientation.
The statement of the Qatari ambassador of the World Cup was strongly condemned by the president of the German football association. In an interview with "Bild-Zeitung", he called for a reaction from FIFA. When asked by SRF News, FIFA did not comment on the World Cup ambassador's statements. In a written statement to SRF News, Fifa said host country Qatar is committed to hosting a safe and welcoming World Cup for everyone, including members of the LGBTIQ+ community. "Discrimination of any kind on the basis of sexual identity is strictly prohibited." Fifa and Qatar would introduce a series of measures to this end.
Protest in front of the FIFA museum
Swiss gay and bisexual umbrella organization Pink Cross is calling for the international football association to take a closer look at Qatar. The Pink Cross and other LBGTI organizations therefore called a protest in front of the Fifa museum in Zurich on Tuesday afternoon. About 50 people demonstrated over the situation of the LGBT community in the World Cup country of Qatar.
"LGBT people in Qatar continue to be persecuted, tortured, discriminated against – and Fifa just looks different," says Pink Cross CEO Roman Heggli. He demands that Fifa use its influence and that Qatar stop criminalizing and persecuting LGBT people.
Alessandra Widmer of the Swiss Lesbian Organization (LOS) criticizes the security situation in Qatar for LGBT people who want to attend the FIFA World Cup. "We cannot assume that Fifa can guarantee the safety of LGBT people. In particular, we know from queer people in Qatar that they are subjected to massive persecution, that they are imprisoned, that they experience violence or that they are subjected to forced therapy." Exactly how this will affect the situation of World Cup visitors is unclear. "But it's definitely a dangerous country for openly queers," says Widmer.
Qatar demands FIFA sign against criminalisation

open the box
Zuklappen box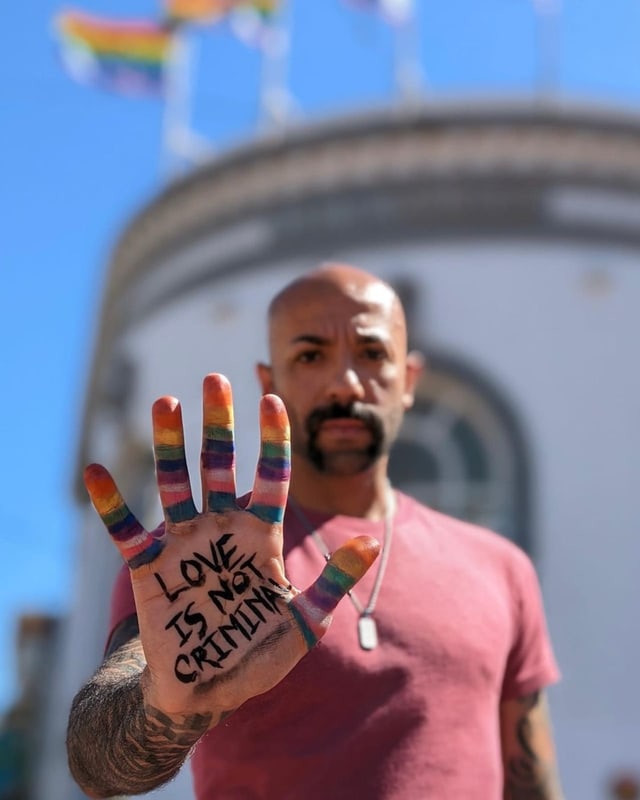 Nas Mohamed criticizes that Fifa cannot spread the wrong message that gay fans are welcome at the World Cup. He is the first Qatari to publicly reveal his homosexuality and promote the rights of the LGBT community in his country of origin.
"I grew up in Qatar and did my medical training in the US," says Mohamed. Fearing persecution by the state as a homosexual, he applied for political asylum in 2011 and now lives in San Francisco.
"The LGBT community in Qatar is being discriminated against and persecuted," Qatar reports. "They are victims of conversion therapy and are arrested and tortured by the security authorities."