content
FIFA's ethics committee recently condemned a FIFA official, among other things, for allegedly receiving money for his vote in Qatar. And Fifa successfully defended the verdict all the way to the Federal High Court in Lausanne.
So corruption in the selection of Qatar as the venue of the World Cup in the end? FIFA still denies that the December 2010 elections were corrupt. This follows from an internal investigation from 2014, the so-called Garcia Report.
Money collected for voting in Qatar
American justice intervened only a year later, in May 2015, in Zurich's luxury Baur au Lac hotel.
In the course of this arrest operation, the Argentinian TV rights dealer Alejandro Burzaco also came forward. Now he is a key witness for American justice. On November 14, 2017, he made explosive statements before a competent US court: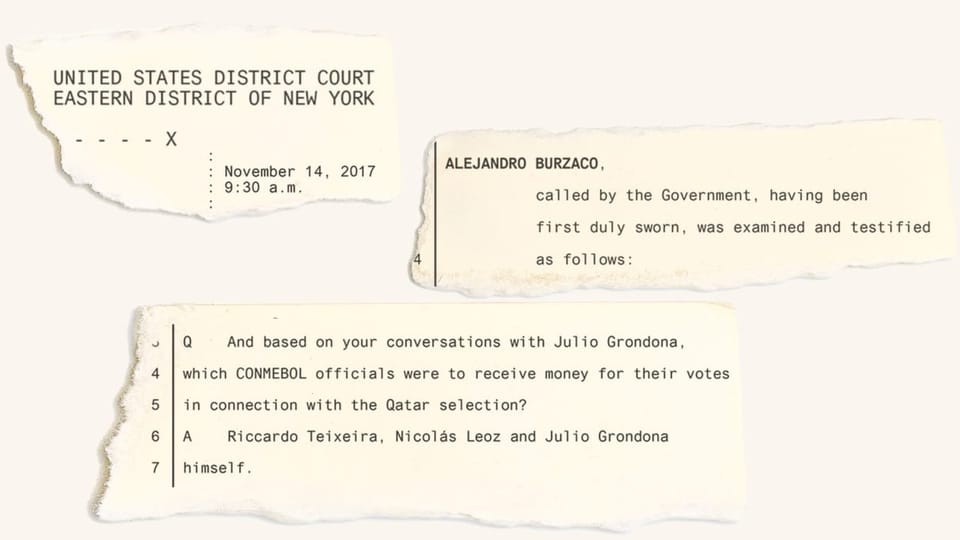 When asked who, according to his knowledge, received money for the Qatari vote, he names three names: Julio Grondona, Nicolas Leoz and Riccardo Teixeira. Three well-known football officials from South America at the time; three names that have long been suspected of corruption.
conviction for corruption
Another voice making a claim, you might say. But far from it. Based on this statement, among others, the FIFA Ethics Committee, FIFA's internal control body, is conducting proceedings against Riccardo Teixeira (the other two have since died).
Teixeira was a member of FIFA's executive committee in December 2010. He claims he voted for Qatar. Did he get paid for it? He denies it.
However, the FIFA Ethics Commission convicted Teixeira of corruption in July 2019. He quotes Burzaco's statement verbatim in the judgment.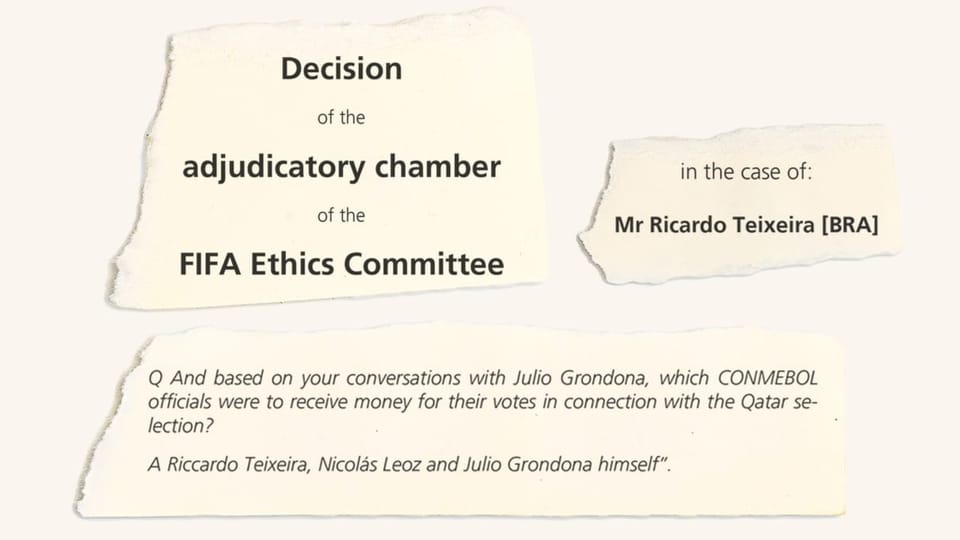 It fined Teixeira one million Swiss francs, roughly the same as Burzaco says he received for his vote in Qatar, and banned him from all football activities for life.
appeal against the verdict
Teixeira will appeal the verdict. FIFA's legal department is now taking over. He argues before the sports court in Lausanne that Burzaco's statement is so-called documentary evidence. So not just an assertion, but proof.
The Lausanne Sports Court supports this view, among other things, because Burzaco made the statement under oath in the US. In short: the sports court in Lausanne declares the statement detailing the three votes bought in the Qatari election as credible.
Teixeira is not happy about it. He appealed to the Swiss Federal Supreme Court. Failed – Fifa wins across the board: In February 2022, the Federal Supreme Court upheld the ethics commission's verdict, which included, among other things, vote-buying in connection with the Qatari elections.
False statements by the FIFA President
And how does FIFA President Gianni Infantino react? SRF asks in April 2022. Four months of silence in total – despite two registered letters asking SRF. Finally, SRF receives a short statement.
In English: "There is no decision of the FIFA Ethics Committee that talks about bribes in connection with Qatar."
This is demonstrably wrong: In the judgment of the ethics commission, the controversial Burzaco statement is quoted one by one (see image).
Burzaco's FIFA statements have actually been known since November 2017. Even then, Fifa should have investigated the controversial election, says former ethics commission judge Hans-Joachim Eckert.
But Fifa says the election went off without a hitch – and that's based on Garcia's report.
In fact, the matter was the subject of a detailed investigation in the so-called Garcia Report, and Fifa published the report in full in 2017.
In English: «The issue was examined in detail in the so-called Garcia Report published in 2017.» But the publication date is misleading.
Allegations of corruption were not investigated
Because – we remember: The Garcia Report has the status of a 2014 investigation; it was written three years before key witness Burzaco testified under oath in a US court. In other words: Even after Burzac's controversial statement, Fifa never investigated whether there was indeed corruption in Qatar's elections.