content
A gymnast recently balanced on a bombed-out facade near Kiev. That's what Banksy's latest graffiti is all about.
With new works in Ukraine, a well-known but anonymous street artist sets an example of resistance and against the war.
What graffiti motifs can you see? Several graffiti in the style of Banksy gave a lot to talk about. The most striking of them shows a gymnast doing a handstand. It looks like she's resting her hands on the rubble.
Other pictures have also appeared. A young boy throws a man to the ground with a judo maneuver. It seems that the "David versus Goliath" scene was not chosen by chance: Putin is known to practice judo martial arts.
Elsewhere, an acrobat holding a ribbon pirouettes through a gaping hole in the wall. Other works in Banksy's style can also be seen in Ukraine.
Where did the artwork appear? A stand-up gymnast is enthroned on a ruin in Borodjanka, northwest of Kiev, as is a judo boy. Other works appeared, for example, in the city of Irpin.
Are the works really by Banksy? The photo of the gymnast in a handstand was published on the anonymous artist's Instagram channel, as well as on his website. The publication is seen as a sign that Banksy is confirming the work as his own.
There are no posts about other graffiti in the style of Banksy yet. However, the British press agency PA wrote that Banksy's PR agency confirmed that the artist had started working in Borodyanka and Irpin.
Why graffiti in war zones? Banksy is known for socially critical works. He has already left his mark in other crisis areas, for example on the wall between Israel and Palestine.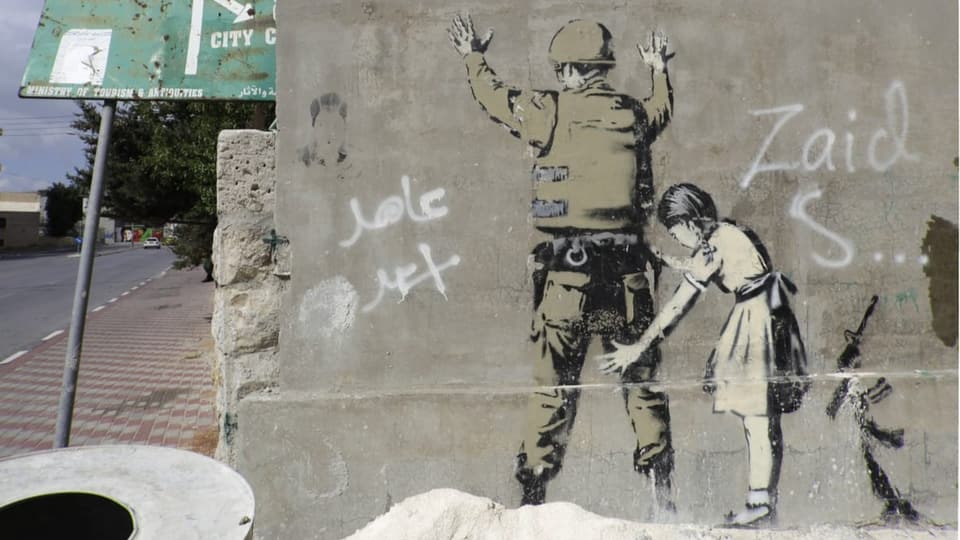 Banksy's works have decorated the wall there since 2000 and criticize, among other things, military oppression. Banksy places his messages on the wall on the spot. Since the artist is now world famous, he also tours the world.
What kind of reactions have the street artworks caused? The Ministry of Defense of Ukraine commented on the photo of the winning judo on Twitter: "We are stronger than David. You are weaker than Goliath."
Many Ukrainians thanked Banksy. It reminds the world that the war is still not over.
There were also voices from Iran. Iranians asked Banksy to support the protests with his art.
Someone commented on Banksy's Instagram post: "Iranian women need the help of artists all over the world – to make their voices heard."
SRF 1, Tagesschau, 12 November 2022, 13:00 ; schle/ap/sda