(Motorsport-Total.com) – Fernando Alonso has been handed a five-second penalty for a collision with Alpine Formula 1 team-mate Esteban Ocon at Interlagos, with both under heavy criticism from team boss Otmar Szafnauer.
Fernando Alonso's front wing damage after Alpine team collision with Esteban Ocon in Sao Paulo F1 sprint
Enlargement
Alonso and Ocon touched twice on the first lap of Saturday's 24-lap sprint race in Brazil. The first collision occurred in turn four as they entered the turn side by side.
Alonso was pushed a bit coming out of the corner, but the more dramatic incident occurred at the end of the lap when contact occurred between two Alpine riders crossing the start/finish line.
Why was Alonso found guilty
The front wing of Alonso's car was damaged when it came into contact with Ocon's right rear wheel. Alonso had to pit to fix the car, prompting the Spaniard to react furiously, sharing over the radio: "Thanks to our friend, I lost my front wing."
The stewards confirmed after the sprint race that they would investigate the incident on the main straight and, after hearing from both drivers, concluded that Alonso was at fault, resulting in a five-second penalty.
This was because Alonso was "significantly faster" due to the slipstream and some sidepod aerodynamic damage suffered by Ocon at turn four. Race stewards said Alonso admitted at the hearing that he had "slightly misjudged" the timing of the swerve and rear-ended Ocon, with his front wing hitting Ocón's rear tyre.
The verdict read: "The stewards found that Alonso was entirely at fault for the collision, which was dangerous at those speeds and at that point on the route."
The penalty drops Alonso to 18th on the grid for Sunday's Brazilian Grand Prix. He also concedes two penalty points for his FIA Super Licence, meaning he has accumulated six points in the last twelve months.
Szafnauer reprimands Alonso and Ocon: "The team let down"
Team principal Otmar Szafnauer did not comment publicly on the incident after the sprint race, but criticized in a team press release published on Saturday evening that both Alpine drivers had lost their good starting positions in a close battle with McLaren for fourth overall. order.
"Honestly, both Esteban and Fernando need to do a better job to complement the fantastic efforts of everyone in the team by avoiding incidents on track and not affecting the performance of the whole team," said Szafnauer.
"Both riders have let the team down today. I expect more from them tomorrow as we have to do everything we can to get some championship points from the weekend. We want to make sure that next weekend in Abu Dhabi we can be in a position where we can achieve our goals for the season. Tomorrow is a new day."
Ocon: I didn't even notice the second contact with Alonso
But Esteban Ocon says he had no idea during the sprint race at the Sao Paulo Grand Prix in Brazil that he and team-mate Fernando Alonso collided at the start and finish line.
---
Photo gallery: Formula 1 2022 in Brazil: The most important thing about Saturday
"I had no idea it happened," Ocon told the media immediately after the race. "Now I find out. Yes, I don't know how that's possible." While Alonso wasn't happy with the two moments in the first lap, Ocon doesn't share the view that he did anything wrong.
"That's his opinion, my opinion is different," Ocon said. "I was at the front so I wasn't the one with the problems. I was trying to drive the McLaren." [von Lando Norris] attack on turn four. I think it's a race and we try to get the best out of everything, but it was very costly today."
Alonso disappointed because: "The car was surprisingly fast"
While Alonso was still quite open about Ocono on team radio during the sprint race, he calmed down after the incident. Looking back on the accident, the Spaniard says the most unpleasant thing is that it cost him the opportunity to score some decent points.
"It's far from ideal to have contact on the first lap in a sprint race because the race is too short to really close the gap at a pit stop," he explains.
"Even though the car and the pace were great today, the race was too short to recover from. If we only think about the positives, tomorrow we start from P15, we have a good chance to score a lot of points because the car was surprisingly quick today, " Alonso said before announcing the penalty.
Alonso with poison darts at Ocon: it was a slow weekend
At the same time, the Spaniard makes a dig or two at Ocon, whose defensive maneuvers he has disagreed with all year. "I was really close to the wall this year: I also remember a couple of times in Jeddah and Budapest.
"It seems like when we're too close, there's this, well… That's it, there's nothing we can do. We're both trying to do our best, but unfortunately it didn't work out today."
Asked if he had spoken to Ocon about events ahead of this season and whether he was his Alpine team-mate, Alonso tries to remain diplomatic.
---
Sprint F1: Why Mercedes is suddenly winning
Brazil F1 sprint: Max Verstappen fails with tire choice, George Russell celebrates first F1 win More Formula 1 videos
"I don't know, I don't think it's necessary, nothing else," he says. "There's still one race left, next year will be a different year, he'll have a different team-mate and the management will have a different situation with two drivers, so it'll be different, that's fine for me. In the penultimate race, I just want to go to Abu Dhabi and test a green car, that's my main goal now."
But Alonso adds: "On his side it was a bit slower all weekend. But on my side we lost a chance. But all is not lost, because tomorrow we can hopefully recover from a long race."
Asked if the collision with Ocono occurred under similar circumstances to his crash with Lance Stroll in Austin, Alonso said: "I don't know. I didn't see the TV footage properly so I don't know how it happened." But I was sad that we didn't get any points today because at least my car was very fast."
After the sprint: Ocons Alpine is on fire!
Despite having to pit after a wing failure, Alonso finished ahead of his team-mate Ocon, who was relegated to 18th before Alonso got into that position with a penalty.
When the two Alpinists touched in the fourth corner of the first lap, Ocon suffered sidepod damage that may also have caused his A522 to catch fire after a sprint in the closed car park.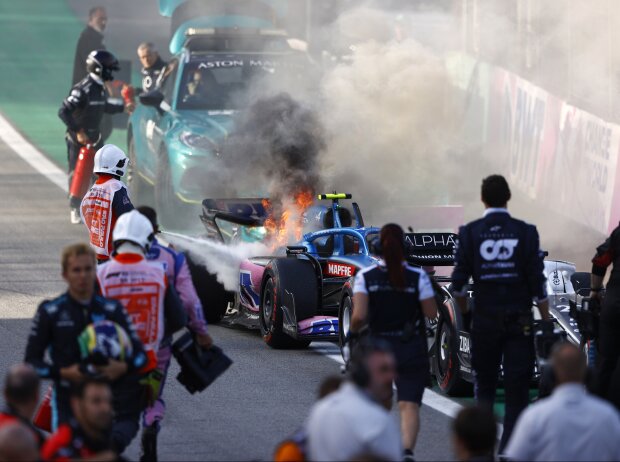 © Motorsport Images
The marshals arrived just in time to prevent Esteban Ocon's Alpine from completely bursting into flames Enlargement
"Sidepod is completely open," admits Ocon. "I don't know how it didn't fly away. The car also caught fire, so I hope it won't be too bad in the end."