Acne inversa or also Hidradenitis suppurativa is a chronic, relapsing, inflammatory skin disease that mainly affects younger adults. Overall, it affects about 1% of the German population. The characteristic inflammation of the follicular epithelium of the sebaceous glands and terminal hair follicles is not only painful, but also leads to severe disruption of psychological well-being and quality of life. The eventual secretion of pus and foul-smelling wound secretions from abscesses and fistulas are often a great burden to sufferers and cause them to withdraw from their social environment.
Case report – successful wound healing after excision
In our case report, we would like to present the suffering and successful healing of the wound of a 43-year-old patient after surgical excision of the affected tissue.
2013: The patient constantly develops inflammatory nodules and pustules with sometimes severe swelling and pain in the labia, groin and inner thighs. The gynecologist treats the affected areas with antibiotics and creams.
2014: Referral to a dermatologist after recurrent abscess formation.
By 2016: Abscesses are divided several times. According to the dermatologist, these sores are caused by ingrown hairs that can occur during epilation and epilation of pubic and body hair. The risk factors of smoking and being slightly overweight contribute to the problem.
2019: Renewed pustules. Sitting and walking become torture for the patient, ointments and antibiotics (tetracycline 3 x 1000 mg) do not help – resistance found.
December 2019: Surgery is inevitable due to severe pain.
2/12/2020: In the skin clinic, the entire affected area on both sides of the inner thighs is extensively excised. Aftercare is provided by the resident dermatologist – Betaisodon ointment and non-sterile cellulose from a roll.
The outpatient nursing service was called to change the bandage. A wound expert found insufficient wound care that was not up to standard. Another burden for the patient was frequent visits to the toilet due to diabetes insipidus (a hormone deficiency disease characterized by extremely high urine output), which caused the medulla to become wet every time. Overall, she complained of great pain from her wounds and was very nervous.
Course of therapy
Pics 1 and 2 show the wounds on the right and left on February 21, 2020. After consultation with the family doctor, HydroClean was used from that point on® cavity 4 x 8 cm and above Zetuvit® Plus applied silicone edge.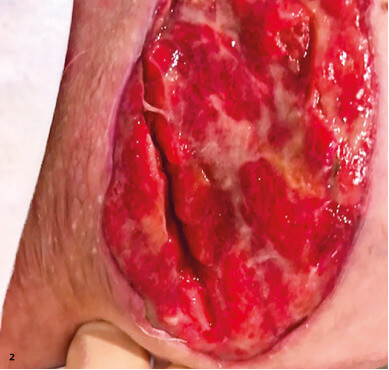 The dressings were changed daily. After the first day, the patient was delighted because she could go to the toilet without any problems and could wipe off the bandage if the outside was wet with urine (Fig. 3).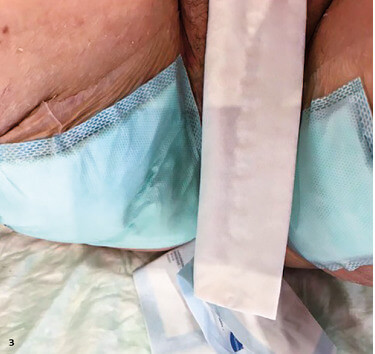 Pictures 4 and 5 of 2/26/2020 show how HydroClean® cavity as a primary dressing and Zetuvit® Plus Silicone Border was applied as a secondary dressing. The cellulose strip in the middle protected the intimate part during the photo shoot.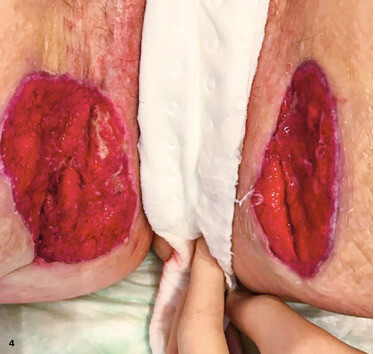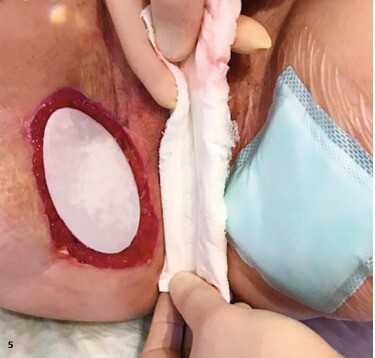 Progress in healing is clearly seen in Figures 6, 7 and 8 from March 20, 2020. Figure 9 shows wound healing as of April 10, 2020.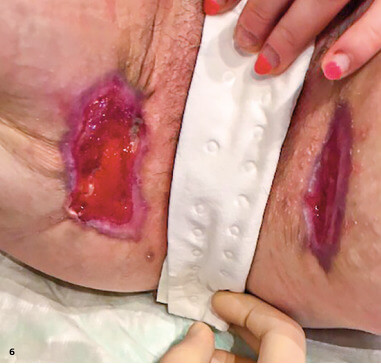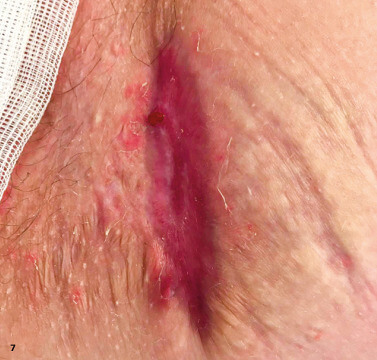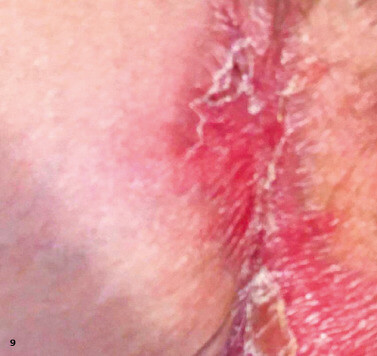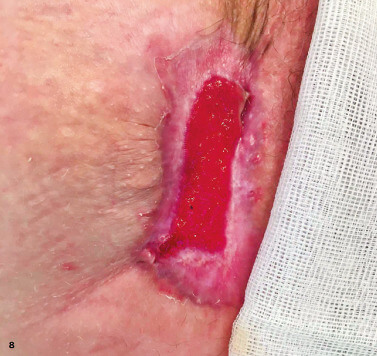 This case study shows how important moist wound care is to the chances of healing such a large wound. Moist wound care promotes the formation of granulation tissue, and hydroactive wound dressings can prevent wound adhesions. Together, this ensures an atraumatic dressing change that can prevent tissue re-injury. Would you like to learn more about acne inversa? This The article is enlightening disease background.
Link: